Register for free to become an industry-recognised ethnic minority or immigrant-owned business, and access a world of connections, learning and events.
We're here to help ethnic minority and immigrant-owned businesses break down barriers and access new worlds of opportunity.

We'll connect you to procurement professionals who are committed to inclusive procurement standards and diverse supply chains. From facilitating conversations, to guiding you through the often-complex tendering process, we'll help you unlock potentially lucrative supply contracts.
1
Connect with global and European corporations.
2
Get exclusive access to conferences and networking events.
3
Amplify your brand's visibility and be supported in growing your business.
4
Benefit from world-class leadership programmes.
5
Scale up with online webinars and workshops.
6
Get discounted tickets to a range of corporate online and in-person events.
ESDP can help you become an industry-recognised and registered ethnic minority or immigrant-owned business for free. We provide all the support you need to scale up and thrive. From networking to world-class leadership programmes to
innovation investment
and peer-to-peer learning – we'll help you unlock enormous potential and gain more opportunities in global and European supply chains.
Register now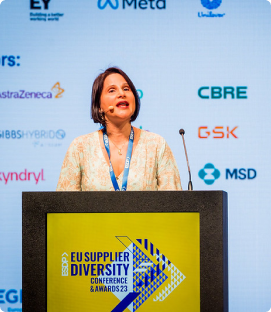 Meet, network and be inspired by other ethnic minority and immigrant-owned businesses
As a registered member of ESDP, you'll be able to network with other entrepreneurs who have faced and overcome similar challenges to you. Meet, be inspired, and even start some exciting new collaborations.
"It's about taking the best from both worlds, and in my case, I think with my education and perspectives, it created something unique that differentiates me from my colleagues in some ways."
Jing Liu, BPC Instruments
"My ethnicity has played a role in my path. As an immigrant I think I had to prove myself more and that helped me to achieve things that I'm very proud of and that only happened because I learned from a young age to fight harder. I would say I was determined and had tenacity. Being a woman with an ethnic background has made me work twice as hard."
Nancy Shenouda, Founder of Tradesnest
"Being an immigrant brings you many advantages, including a certain open-mindedness that can allow you to bring a new perspective to your projects."
Ning Li, Entrepreneur and business owner in Paris and London
Register now for a world of opportunity.
You're eligible to register and join the ESDP if:
Your business is a for-profit enterprise
You're registered in Europe and physically located in Belgium, France, Germany, Ireland, Sweden or The Netherlands
Your business is at least 51% owned, managed and operated by people from ethnic minority and non-western background
The ethnic minority owner(s) of the business are EU citizens or have a legal right to reside within the EU
The ethnic minority owner(s) of the business is active in management and daily business operations.