Maximize your conference experience by helping to create a social media buzz!
Whether you're an attendee, speaker or friend, you can use the social media tools below to share information about the conference with your networks. Be sure to tag us and use the hashtag #eusdconf in your posts!
For all our sponsors and partners, be sure to look out for an email with a personalised media toolkit with a host of assets ready for your use.
Speaker | Ready to use social media assets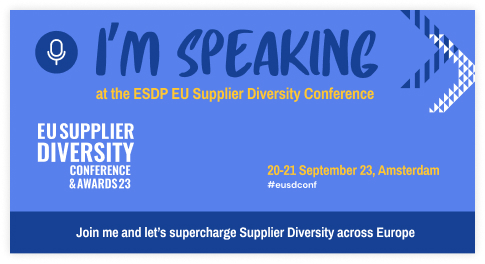 Speaker | Customisable social media assets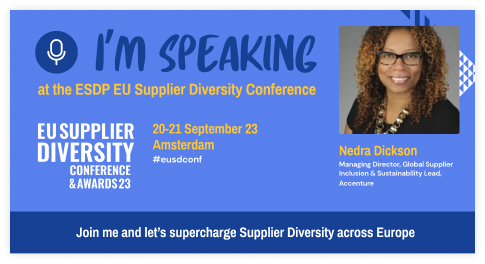 Option 1
🌟 Join me in Amsterdam this September 20th-21st for Europe's largest #SupplierDiversity Conference! 🚀🌍
Ready to revolutionise your supply chain game? Don't miss this incredible opportunity to celebrate inclusivity and innovation and network with influential corporate leaders, policymakers, and inspiring ethnic minority and immigrant entrepreneurs. 🤝
Secure your spot here: bit.ly/3IGQPkn, and let's ignite the future of inclusive supply chains together! 🔥 Book your ticket now, and let's connect at #eusdconf! 💼💡
#SupplierDiversity #InclusionMatters #Innovation #NetworkingOpportunity
Option 2
🔥 Don't miss the hottest event of the year for #SupplierDiversity enthusiasts! Join me at the EU Supplier Diversity Conference & Awards in Amsterdam this September 20th-21st! 🌟
Get ready to unlock the secrets of supply chain inclusivity as we dive into the groundbreaking strategies of corporates and policymakers, shaping the future of Europe's business landscape. 🌍✨
But that's not all! The conference is also your chance to mingle with game-changing entrepreneurs hailing from ethnic minority and immigrant backgrounds who are redefining innovation in the industry. 🚀🤝
Seize the opportunity to elevate your supplier diversity game and expand your network! Secure your ticket now: bit.ly/3IGQPkn for #eusdconf, and let's make waves together! 💼💥
#InclusiveSupplyChains #NetworkingEvent #GameChangers #DiversityInBusiness